After her divorce, there is no way Raman Shergill is getting into a relationship again.
Just to be sure, she's made a Love List.
A notebook of requirements she needs to check off for romance. Realistically, no one is going to meet them all, but that's not a problem. The real love in Raman's life is her hard-fought independence, never having to compromise again, and not having to deal with weaponized incompetence (hurray!).
Enter Rhett with his leather jacket and cocky smirk.
She doesn't believe in love.
He doesn't believe in redemption.
OTHER BOOKS IN THE SERIES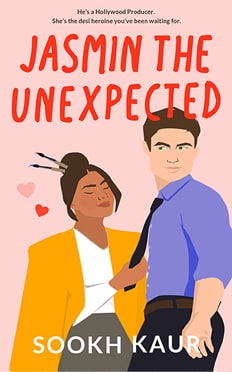 Does paint come off Hugo Boss?
Jasmin just spilled some on mega-rich, disturbingly handsome Will Bennet.
He corners her into accepting a job she can't refuse. Babysit his younger brother in return for extra cash. Easy, right?
Wrong.
Turns out living in the Bennet mansion means she keeps running into Will. And Jasmin can't stop staring at his bulging…muscles…
He walks into her salon 7 years later
I will never see Jaghr Bains again.
That was the promise Priya Sidhu made to herself on the worst night of her life. When she left everything behind. No more family, friends, boyfriend.
Seven years later, a water pipe bursts in her salon. And the only contractor she can afford is…
You guessed it.
Jaghr. 
He owns the company now.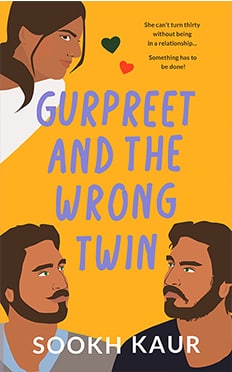 Gurpreet dreams of rom-coms, but also keeps failing on dating apps…
Cue the single forever flag.
Or, maybe not. She's met the perfect man over samosas. All she has to do is recruit his smouldering twin brother to help her win him over. 
What could possibly go wrong with that plan?
Sheltered Punjabi woman versus rugged biker
Never been kissed. Virgin at thirty. Life feels very plain… 
Until Tina meets Gabriel. The hot as hell President of the Blackhawk Riders. Now she's on the back of his Harley and lying to her friends and family about it. This is wild. This is dangerous. And it's the most alive she's ever felt.
But it can't last because they're from two incredibly different worlds that can never connect.
FUNNY, SEXY, DIVERSE ROMANCE
If you love romances (like I do!) then you're always on the hunt for your next good book. Something you can spend hours getting lost in. Great, cute moments mixed with hot, steamy moments.
With a lot of heart.
My job as an author is to write all of that…with main characters named Sandeep instead of the usual Sarah. Proud, diverse, flawed women who snack on french fries while dancing to Drake.
Originally born and raised in Calgary, I've moved around the world a lot — recently settling in Vancouver. 
During the day I work in marketing, copywriting and designing. At night, I'm fighting evil by moonlight. Er, more like watching Sailor Moon, and writing romances about complex POC heroines!
When you read Sookh Kaur, South Asian women aren't side characters. We are the main characters. Living our best lives, empowered, full of power. 
It started with a few emails. Harmless flirting.
My freelancer contract was coming to an end, anyways. And I thought he was a manager.
Nope.
Clint Devaros is the CEO of PushBack.
Too bad I'm getting set up by my concerned Indian parents. I'm divorced, and they want me to re-marry: a responsible, middle-aged accountant.
Not fall for an appallingly gorgeous tech mogul who happens to remember every little thing I emailed him…
Back when we were still strangers over the internet.
Help.
Clint Devaros is knocking on my door.
I've got a choice to make.
Play it safe or risk my badly burned heart again?
What you also get: Unedited early versions of chapters, special discounts, news about me and general awesomeness. No spam, I promise.